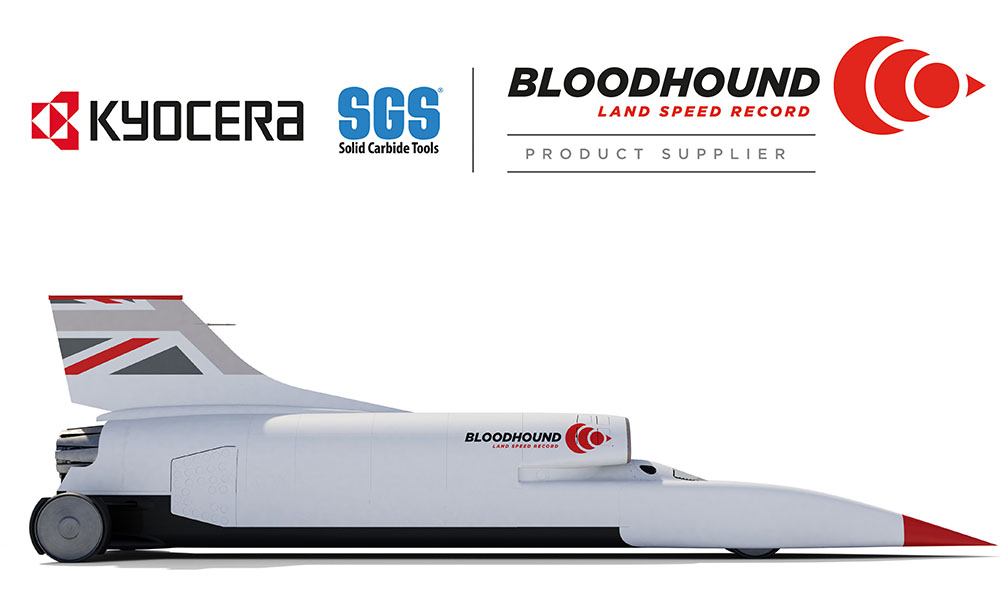 Cutting tools from KYOCERA SGS are helping to shape the success of one of the most exciting innovations of this century – the Bloodhound LSR (Land Speed Record) car.
Bloodhound LSR is a UK-based project which aims to break the world land speed and by using the most advanced straight-line racing car ever built. It's a new venture for the Bloodhound SSC car which was rescued from administration by Ian Warhurst in December 2018. KYOCERA SGS are proud to provide cutting tools to enable the project's machinist to modify and make components for the record-breaking car.
The Bloodhound Project was first launched in 2008 through the formation of Bloodhound SSC Programme Ltd by former world land speed record holder Richard Noble, who had set a new record of 633mph in 1983. That record was broken in 1997 by a team led by Noble. The story now continues with the Bloodhound LSR at a crucial stage of development in which the car will undergo high speed testing at Hakskeenpan desert, Northern Cape, South Africa. It will be building speed over 13 runs in 50 mph increments from mid-October to mid-November, leading to incredible speeds of 500+ mph which, if achieved, will place it amongst the 10 fastest cars of all time! The car will be powered by a Rolls-Royce EJ200 jet engine, usually found on the Eurofighter Typhoon fighter jet, which creates an impressive 9 tonnes of thrust (90 kN). That's equivalent to around 54,000 thrust horsepower! This exciting stage will allow the Bloodhound LSR team to understand how the car behaves as it initially enters transonic and then supersonic speed levels. After setting the new world land speed record, the team will decide whether to pursue the 1,000mph (1,609km/h) speed for which the Bloodhound has been designed.
As you would expect with such a ground-breaking project, the success of the Bloodhound depends on the dedication of its team and the involvement of a range of sponsors and supporters, including KYOCERA SGS. An eight-year association has seen KYOCERA SGS provide the Bloodhound team with cutting tools and technical support. At this vital stage of the car's evolution, KYOCERA SGS cutting tools are enabling the development of the project to speed ahead, as they are being used to make and modify individual components such as the hubs, the parachute attachment and the rear upright.
As Tony Parraman, Head of Sponsor Liaison at Bloodhound LSR, explains,
"The cutting tools from KYOCERA SGS allow our machinist to make and modify an array of vital components wherever the car is being tested. It's not only the quality of the tools which is an advantage to us, but also the breadth of choice and the technical support we receive through the partnership. We've always found that the team from KYOCERA SGS are willing to visit us and sort out any issues that we might have. We're in the early days of a new team supporting us and it's being going really well."
Antony Theaker, UK Sales Manager at KYOCERA SGS, comments,
"We are delighted to be able to build on our long association with the Bloodhound project. We're always working to support others to drive innovation and exceed expectations and we're looking forward to helping the Bloodhound to drive ahead with shattering the land speed record."
To find out more about Bloodhound LSR, go to www.bloodhoundlsr.com/